Heartline Podcast – Episode 99 – Dr. Emerson Eggerichs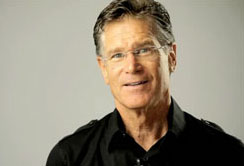 Children need love. Parents need respect. But here's the rub: a child who's feeling unloved negatively reacts in a way that feels disrespectful to a parent and a disrespected parent negatively reacts in a way that feels unloving to the child. This dynamic gives birth to what Dr Emerson Eggerichs calls the Family Crazy Cycle. So how do we break out of it? Dr Eggerichs is here today to share some key principles from his new book Love and Respect in the Family. He's an internationally known public speaker on the topic of male and female relationships and has spoken to audiences across the spectrum, including NFL owners and coaches, PGA players and their spouses and the New York Giants. He was also invited by the military brass to speak to the troops in Iraq.
Based on over three decades of counseling as well as scientific and biblical research, Dr. Eggerichs developed the Love and Respect Conference which he presents to live audiences around the country.  This dynamic and life-changing conference is impacting the world, resulting in the healing and restoration of countless relationships.
For more about Dr. Eggerichs visit www.loveandrespect.com.
LISTEN TO THE INTERVIEW
Podcast: Play in new window | Download