CERTIFIED COUNSELOR
I am a licensed professional board certified counselor. I received my B.S. in psychology and a master's degree in counseling from Liberty University in Lynchburg, Virginia.
I have a private counseling practice with offices in Fairfax and Manassas Virginia where I specialize in the treatment of eating disorders, anxiety and depressive disorders as well as grief and loss issues. I lead a monthly group for women of domestic violence with Lutheran Social Services, and I'm also certified in Critical Incident Stress Management.
AUTHOR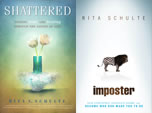 I am no stranger to loss and suffering. In 2013, I lost my beloved husband to suicide and my world was decimated. I speak candidly about my loss(es) in the hope of helping others to heal. Shattered: Finding Hope and Healing through the losses of life. Imposter: Gain Confidence, Eradicate Shame and become who God made you to be.
RADIO HOST

In 2011, I created Heartline Radio. The show is designed to provide relevant content to educate, equip, and engage the culture in the awareness of how mental health issues are affecting each of us. Notable guests have included Dr. John Townsend, June Hunt, Lee Strobel, Kay Warren, Dr. Emerson Eggerichs, Dr John Ortberg. Biblical counsel and practical solutions are the focus of each program. Heartline currently airs on Alive in Christ Radio. They can be accessed through iTunes and ritaschulte.com
Additional audio... CONSIDER THIS is a one minute feature covering a variety of topics that challenge the listener to consider the relevancy of each teaching to their life.
CONTACT
I invite you to connect with me. email me at ritaundergrace@cox.net, contact me on Facebook http://www.facebook.com/RitaASchulte, or Twitter @heartlinepod.
I want to hear what's on your heart.