by Gary J. Oliver, Th.M., Ph.D. (www.liferelationships.com)

Listen to PART I and PART II of "The Fight of Your Life" • Heartline Podcast with Gary Oliver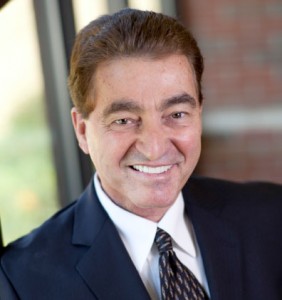 Imagine going to the doctor for what you think is a routine check-up and being told you have two, rapidly growing, inoperable tumors… and apart from an experimental chemotherapy treatment, you may only have three months to live. Three months….
What emotions would you feel? What thoughts would immediately flood your mind? What questions would you have for the doctor? For God? What specific worries and fears might you experience? Who is the first person you would call? What would you say? Where would you start the process of organizing the last three months of your life?
Well, that is exactly what happened to me, and those are some of the very questions I had to ask myself. By God's grace, everything turned out to be a positive experience—even a sovereign opportunity—for me. Once again, God turned what Satan had designed for discouragement into a chance to continue demonstrating, and even showcasing, His faithfulness by providing some life lessons that I would like to share.
In order to understand those lessons, I need to start about 25 years ago when I was told that what doctors thought was just a benign growth in my mouth was actually cancer, and they were going to operate in two days. I stood there holding the phone while staring out the window. These things don't happen to me! These are the kinds of things I help others deal with. Me… have cancer? No way! As it turned out, this was to be the first of seven occasions when I would be told I had cancer, and the first of six surgeries for that dreaded disease.
Seven years ago, and just a few months after doing the funeral service for my father, I sat in a doctor's office and heard him give the same diagnosis to my late wife, Carrie, except that her condition was for inoperable metastatic pancreatic cancer with a prognosis of just three to six months to live. It was infinitely more painful for me to hear her diagnosis than it was to hear my own.  In His goodness and grace God gave Carrie two more years. Little did I know that within a four year period, I would have buried my dad; my wife of 27 years; my 23-year-old son, Matt; and my only sibling, Marsha.
After three years of being single with no desire or plans for remarriage, God brought a delightful woman into my life and, after 15 months of dating and an engagement on April 3, 2010, Linda and I were married. Only a month after our wedding, I received my sixth diagnosis of cancer, had a 10-hour surgery, and a long recuperation with the first month confined to my bed. They had to remove 80% of my tongue and replace it with skin from my legs. I was told that at some point my wife might be able to understand a few of my words, but I would probably never be able to speak in public again.
From there, I began the painstaking journey of teaching myself how to speak—hours and weeks and many months of sitting in front of the mirror, repeating my ABC's over and over and over again. At first they were unintelligible… I couldn't even understand myself. However, over time Linda was able to understand a few words and I slowly began to sound like a reincarnated Elmer Fudd.
In November of that same year, as I was making good progress in my recovery, I went back to MD Anderson Cancer Center in Houston for another "routine" checkup and was surprised to receive my seventh diagnosis of cancer—the news that it was inoperable and without a new chemo regimen meant that I might have only three more months to live. Thus began a new emotional roller-coaster ride—and a new growth opportunity.
I thought my chemo regimen in 2003 was nasty, but this time I felt like I had been hit by a Mack® truck. The effects included major fatigue (just walking up a set of stairs exhausted me), nausea, the loss of fingernails and toenails, sores and rashes on my skin, inflammation around my eyes that secreted a substance making it difficult to open them on my own (some mornings I actually had to pry my eyes open), a swollen tongue, a cognitive "fog" that impacted my ability to focus, decreased creativity, neuropathy (a numbness in the tips of my fingers and toes), difficulty concentrating, decreased appetite…. However, there was one positive aspect: I was still able to laugh at myself and my own jokes even if no one else was laughing. After several months of treatment, I was told by my amazed physicians that the tumors had disappeared, which is when I began the year-long healing process.
So why did I take the time to tell you my story in such detail? First of all, it is a testimony to the goodness of God. Furthermore, I want you to know that what I am about to share is not just abstract theory, pop-psychology or trite spiritualization of painful and challenging realities. I have lived through darkness, discouragement, agonizing emotional and physical pain, and faced the news that I may only have a few more months to live… and by God's grace, He allowed me to learn some invaluable life lessons. He has given me certain gifts along the journey and allowed me to grow in ways I never anticipated.
Emotional Growth
God used these events to allow me to experience significant emotional growth. I was raised in Long Beach, California. On the beach they had an amusement park called The Pike and, at the time, it boasted the world's largest wooden roller-coaster known as the Cyclone Racer. When I was in middle school, it only cost 50 cents a ride. I still remember the day when I had saved enough money to ride it 10 times in a row. It brought me great joy!
A roller-coaster is fun to ride, but it would not be very enjoyable to live on. Dealing with the diagnosis of cancer and being told you may only have three months to live can put you, and those you love, on an emotional roller-coaster ride. Yet, it can also provide a greater opportunity to learn when you can trust your emotions and when you cannot. Fear, discouragement, depression, anger, and anxiety are just a few of the emotions you will face, and sometimes they can seem to block your awareness of everything else.
I have spent most of my life helping people work through difficult and debilitating emotions. In dealing with cancer, I had to face these emotions head-on and decide if I was going to believe some of their lies and let them determine my reality or take them captive to what I knew to be true. I remember many days I would have to remind myself that "feelings don't always equal facts," especially when success meant getting out of bed (it wasn't always easy) and just putting one foot in front of the other.
Also, I have come face-to-face with thoughts and feelings that at one time would have seemed overwhelming and impossible to cope with. I engaged in hand-to-hand combat against feelings of hopelessness, helplessness, loneliness, a depth of loss, disorientation, futility, irrelevance… and through it all, rediscovered that emotions are a gift from God with a message and, in God's hands, can provide a potential learning opportunity. However, I had to learn to slow down and stop… to look and listen for what God was saying.
Relational Growth
Another gift from wrestling with cancer has been learning to understand the healing power of friends in a new way and at a new level. Some of my friends have "taken me to school" on how to provide love and support at a time when you have no idea what you need and are just hoping to be able to make it through another day… and, on occasion, not being sure if you even want to see a new day.
Appreciating the power of presence is another area where I have grown—just being there sometimes for a person without any rehearsed statements except, "I don't know what to say, but I love you and am here with you." This speaks to the power of a voicemail, e-mail or text message with no expectation of a response… the often repeated reassurance that I was being prayed for… or a verse or poem. I was amazed by the number of notes I received from people I had never met. Any expression of concern or prayer is encouraging, but to receive one and two-page handwritten notes from total strangers was astonishing and a profound source of encouragement and validation of God's faithfulness.
Spiritual Growth
In the spiritual dimension, dealing with cancer, dying and death has given me the opportunity to better understand the power of perspective and praise. When it comes to perspective, most people go through life with a problem-focus. Their cup is always half-empty and they are experts on what could be better, what others have that they do not, who is better off than they are, and how they would be happier "if" their circumstances were different.
Cancer helped me develop more of a promise-focus. This simply means the reality of the day-in and day-out struggle of confronting cancer in my own life, and in the lives of those I love, has given me the opportunity to see the promises in God's Word from a whole new perspective. When I look at my life in light of what God has promised and expeirnece Him as the ultimate promise keeper, it becomes much easier to move from a fear-focus to a faith-focus.
Another "gift" God has given me is a whole new understanding of the power of praise. "Count your blessings, name them one-by-one" are no longer just the words in a song that was so common it had lost much of its meaning. I began each day by counting my blessings—for a while in words that nobody could understand.
Dealing with the diagnosis compelled me to pursue God's Word. I was led to study the word "joy" and came up with some amazing discoveries. Did you know a primary objective in Jesus' teaching was that His disciples might experience JOY? Did you know the words Joy/Joyous/Joyful are found more than 200 times in Scripture? Did you know the verb, rejoice, appears well over 200 times as well? Look at these verses:
"… In Your presence is fullness of JOY; In Your right hand there are pleasures forever" (Psalm 16:11).
"For His anger is but for a moment, His favor is for a lifetime; Weeping may last for the night, But a shout of JOY comes in the morning" (Psalm 30:5).
"These things I have spoken to you so that My joy may be in you, and that your JOY may be made full" (John 15:11).
"Truly, truly I say to you, that you will weep and lament… but your grief will be turned into JOY…. if you ask the Father for anything in my name, He will give it to you. Until now you have asked for nothing in My name; ask and you will receive, so that your JOY may be made full" (John 16:20, 23-24).
The Bottom Line
Here's the bottom line—in my life, God used bad news to help me focus on the good news… and in the process get everything back into perspective. I have learned that success in life is not primarily how long I live, but how well I live. I hate cancer. Every nasty thing anyone has ever said about cancer is true. At the same time, God can use cancer to help a person surrender the illusion of control. I cannot CONTROL "how long" I live but, with God's help, I can control "how well" I choose to live, for whatever time God chooses to give me.
As I write this, I have been told that while my tumors are gone, I am not entirely cancer free and must still take medication to keep the cancer at bay. There is a probability that the cancer will figure out what the medication is doing and try to spread. Either there will be a new treatment available or it will be my time to "finish the course" and move on. Please know that I do not say that glibly or without emotion.
I am blessed that I don't dread each day and very aware of how well I'm doing, especially given the nature of what I have been through. However, while counting my blessings is a very effective and legitimate way to maintain perspective by fighting the assaults of the evil one and warding off the almost constant emotional, psychological and spiritual warfare, I also know that it does not change for one second the new realities I have to learn to live with throughout each and every day. This can be very difficult, but God continues to prove Himself faithful regardless of the circumstances and, throughout every situation, I am able to experience sovereign joy.
During my adventures with cancer over the past 25 years, I have been given eyes that see things I had never noticed before, ears that hear with a new acuity and clarity, and a heart that is much more tender. I have grown emotionally, relationally and spiritually. I have discovered there is a big difference between surviving and thriving and know Christ did not die and rise again for us to merely survive. Just treading water is not what He meant by "becoming more than conquerors."
If I am told yet again that I may have only three months to live, how will I respond? After prayerfully reflecting on what God has lovingly taught me through the adventures of the past several years, I have realized the most important considerations are not:
IF I'm going to die… it's going happen
HOW I'm going to die… I can't control that one
WHEN I'm going to die… I can't control that one either
IF it's going to be hard or painful… it probably will
When I finally come face-to-face with death—when it becomes my turn to cross that river—the most significant bottom-line consideration will be HOW I can reflect and manifest the goodness, grace and mercy of my precious Lord that I so abundantly experienced throughout my life in such a way that people will be able to see the difference Christ makes in every chapter of life… especially the final chapter. My hope and prayer is to draw on, and drink from, the reservoir of resources God has given me and, with His grace, respond in a manner that will cause people to say, "How great is our God!"  In the meantime, every day is a gift of grace with new opportunities to "count our blessings" and give testimony to a quality of life that refuses to be defined by our circumstances, but instead by God's completed work for us on the cross as we serve a risen Savior.  To God be the glory!
Gary J. Oliver, Th.M., Ph.D., is Executive Director of The Center for Relationship Enrichment and Professor of Psychology and Practical Theology at John Brown University. He is the author of more than 20 books and over 250 professional and popular articles. Gary is on the Executive Board of the American Association of Christian Counselors.
Listen to PART I and PART II of "The Fight of Your Life" • Heartline Podcast with Gary Oliver